L'expérience thermale
Bienvenue au Noah Spa!
Pour profiter au maximum des bienfaits de l'expérience eaunergique offerte au Noah Spa, nous vous invitons à suivre les étapes suivantes :
Bassin eaunergique (45 min. à 1 h)
Source chaude (10 min.)
Bassin d'eau froide (2 à 5 sec.)
Temps de repos
* Recommencer les étapes 2 à 4
L'expérience thermale Noah Spa comprend l'accès au bassin eaunergique, aux spas chauds intérieurs et extérieurs, au bassin froid intérieur, aux saunas secs intérieur et extérieur, au hammam à l'eucalyptus, à la piscine extérieure chauffée, ainsi qu'aux différentes zones de détente.

Découvrez toutes nos installations en poursuivant votre lecture.
Rates
Watergenic spa access
| MONDAY TO THURSDAY *RESERVATION REQUIRED. | |
| --- | --- |
| 9AM TO 1 PM | $50 |
| 1:30 PM TO 5:30PM | $50 |
| 6PM TO 8:30PM | $35 |
| Whole day (2 or 3 time slots) | $74 |
| FRIDAY TO SUNDAY *RESERVATION REQUIRED. | |
| --- | --- |
| 9AM TO 1 PM | $60 |
| 1:30 PM TO 5:30PM | $66 |
| 6PM TO 10PM (Fridays and Saturdays only) | $60 |
| Whole day (2 or 3 time slots) | $88 |
| MEMBERSHIPS (7 DAYS)* | |
| --- | --- |
| 1-MONTH access watergenic spa | $250 |
| 3-MONTH access watergenic spa | $650 |
| 6-MONTH access watergenic spa | $950 |
| 1-YEAR access watergenic spa | $1450 |
With the purchase of a membership, members will benefit from:
- 15% discount on massage therapy, body and beauty treatments
- 15% discount on the purchase of aesthetic products and at the boutique
- 15% discount on access to the baths for ONE companion
On regular prices, available at all times.
* Entrance to the watergenic spa included and gives access to: towel, locked locker, rest / snack area, waterergic spa, indoor / outdoor spa, hammam, sauna, cold pool and outdoor heated swimming pool. You can also buy your sandals ($15). Children 12 and older are permitted Sunday through Friday, and must be accompanied by an adult. Minimum age for access to the baths on Saturdays: 18 years old.
Watergenic spa
The experience

Salt water at 29°C (85°F): 11 stations with distinct benefits (Duration approximately 45 min.)
Follow your own rhythm. Go from station to station and discover the benefits of the massage jets on the different areas of the body:
Neck massage fountain
Releases stress tension in the back of the neck and trapezoids.
Air jet cubicle for the feet, legs and back
Relaxes the body and massages the feet, legs and lower back.
Bar for the entire leg area
Allows to release the muscular tensions lodged in the legs
Jet cubicle for the dorsal region and legs (alternating)
Sends powerful dynamic jets to the thoracolumbar region and legs for back and calf relief
Anti-gravity relaxation bed
Relieves pressure on muscles and joints through the feeling of weightlessness
Bubbles for the body
Lighten the body and provide a massage to the feet and stomach
Jetted bench for the back, lumbar and calves (in sections)
Provides a deep massage of the back and calf muscles
Jetted seat for arms and feet (soothing bubbles)
Is designed to relieve tension in the elbows and feet, while resting the back by thousands of bubbles
Individual bench with jets for the lumbar region and calves
Helps release muscles from toxins accumulated by muscle fatigue
Individual bench with jets for the lumbar region and the feet
Sends powerful jets underfoot and lower back
Counter-current walkway
Tones the muscles and activates the heart rate
Hot & Cold
Heat Sources
Total well-being (duration: 10 min.)
Hammam
Dry sauna
Hammam and dry sauna are two techniques that use water vapour to provide a feeling of wellbeing and relaxation, to help combat anxiety and stress, to promote the elimination of toxins and dead cells. Heat can help alleviate arthrosis.
Spa 39 °C (102 °F)
Provides a deep relaxation for the body, dilates pores and blood vessels (with zones for the lower back and the calves).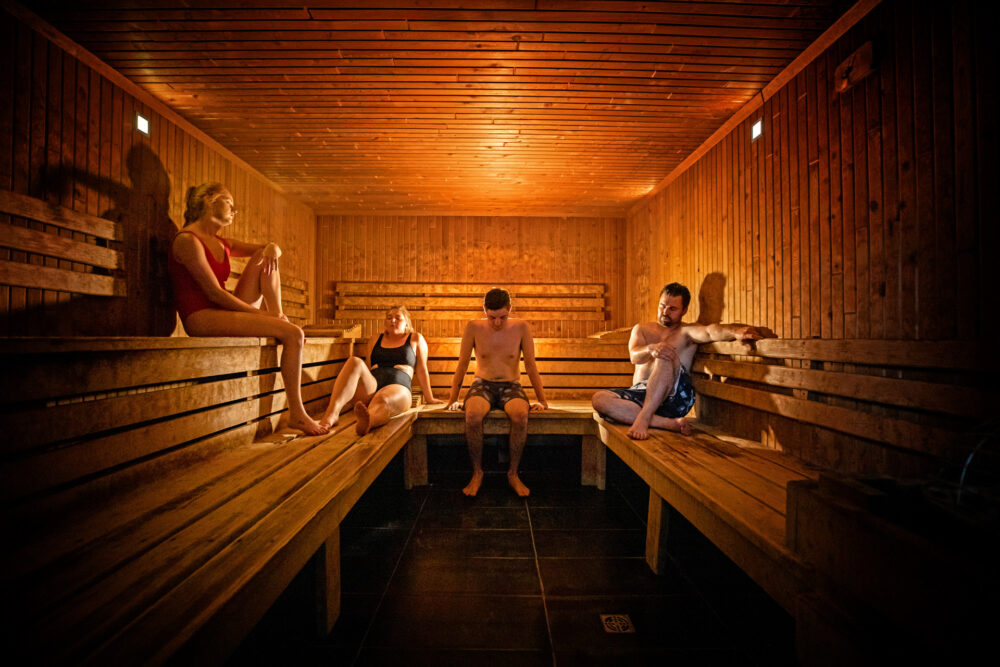 Cold Sources
Cold water bath 10°C (50°F): a dramatic effect (duration: 2 to 5 sec.) Invigorates the body, creates a vasoconstriction of blood vessels and the skin pores, as well as stimulating the senses (use after a heat source). Prolong the pleasure (20 min. rest period is suggested)
Steps
Steps to follow
Watergenic pool (45 min. to 1 hr.)
Heat source (10 min.)
Cold water bath (2 to 5 sec.)
Rest period
Repeat steps 2 to 4.
Recommandations
Before Bathing
Put on swimwear.
Attach your hair.
Take a shower in the change room or next to the pool before starting the hydrotherapy session.
After a massage, rinse off under the shower.
Use sandals when moving around the site.
Drinking water is essential for eliminating toxins and for staying hydrated.
Contraindications
Leave time for digestion after a meal.
Venous insufficiency, heavy legs, varicose veins.
Phlebitis, cardiovascular diseases, epilepsy, depression, low blood pressure, kidney stones, certain inflammatory or muscular ailments, fever.
Pregnant women.